Share your discoveries
Please help us spread the word about Record Hunter and the thousands of FREE historical and genealogical records we provide...Use the social media buttons on every page that interests you.
Search Historica
Visit Historica to search over 100 indexes to 1 Million+ birth, death, marriage, obituary, estate, naturalization and military service records. Searching is free, we offer digital copies of the indexed documents for $10 and items are usually delivered within 24 hours.
TAUNTS OVER GIRL
CAUSES STABBING
From Pittsburgh Post Gazette November 1, 1937, page 2
Boy, 15, Dies of Wounds
In Street Fight.
HICKSVILLE N. Y., Nov. 1.--
(United Press)-- Police reported to-
night that Russell Hawkins, Jr., 15,
was stabbed to death in a street
fight with another boy who re-
sented being taunted by Hawkins
for escorting a girl to her home.
Nassau county police said they
were questioning 15-year-old Arn-
old Valentine at headquarters in
Mineola but that no charges had
been filed against him.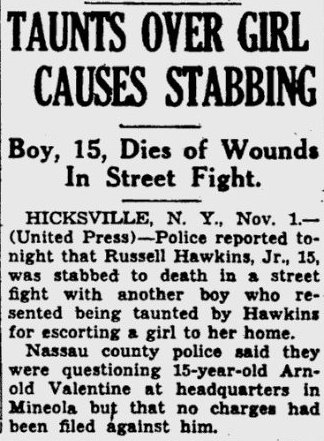 Keywords/Tags: Arthur John Ramsay, Elizabeth Toy Ramsay, Elizabeth Toy, Elizabeth Ramsay, Pittsburgh Post Gazette, Pennsylvania