Share your discoveries
Please help us spread the word about Record Hunter and the thousands of FREE historical and genealogical records we provide...Use the social media buttons on every page that interests you.
Search Historica
Visit Historica to search over 100 indexes to 1 Million+ birth, death, marriage, obituary, estate, naturalization and military service records. Searching is free, we offer digital copies of the indexed documents for $10 and items are usually delivered within 24 hours.
John Thomas and Sam Stone -- Criminal Libel
From the Pittsburgh Post Gazette, November 1, 1937
TWO SALESMEN HELD
Charged with criminal libel, two
salesmen of "The Daily Worker"
were held in jail under $2,000 bail
each yesterday in connection with
the publication in the Communist
newspaper of a story alleging that
political postcards containing anti-
Semitic propaganda had been
mailed to Fourteenth ward voters.
They gave their names as John
Thomas, 21, and Sam Stone, 21.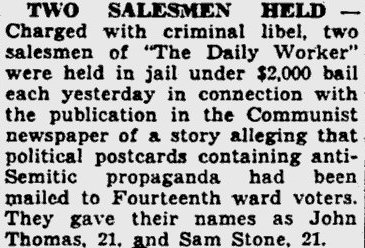 Keywords/Tags: John Thomas, Sam Stone, Pittsburgh Post Gazette, Pennsylvania