Share your discoveries
Please help us spread the word about Record Hunter and the thousands of FREE historical and genealogical records we provide...Use the social media buttons on every page that interests you.
Search Historica
Visit Historica to search over 100 indexes to 1 Million+ birth, death, marriage, obituary, estate, naturalization and military service records. Searching is free, we offer digital copies of the indexed documents for $10 and items are usually delivered within 24 hours.
Transcribed from the Altoona Mirror August 13, 1918
ALDERMANIC NEWS.
            Daniel Walsh of Phoenixville, Pa., was picked up yesterday by Pennsy police on the charge of trespassing on Pennsy property. The man was taken before Alderman John C. Gorsuch, who had him remanded pending an investigation, it being thought that the prisoner is demented.
            Richard Wolf, W. P. Wolfe and Christ Bittner will be given a hearing tomorrow before Alderman Crampsey of the Second ward charged with disorderly conduct. Constable Jones made the information, alleging that the young men created a nuisance at Eighth avenue and Ninth street. All are motorcycle riders.
            Edward Shoenfelt was discharged by Alderman Shuff following a hearing last evening on the charge of assault and battery on Myrtle Swanger.
            Patrick and William Stanley have been arrested on the charge of assaulting Lawrence Dodson on Aug. 9 at the Three Culverts. A hearing will be held before Alderman Staines as soon as the prosecutor is able to be about.
            Two assault and battery cases will be heard before Alderman E. E. Staines of the Twelfth ward. The cases are Rose Leventhal against Henry Baum and Hazel Kicks against Millison Lafferty.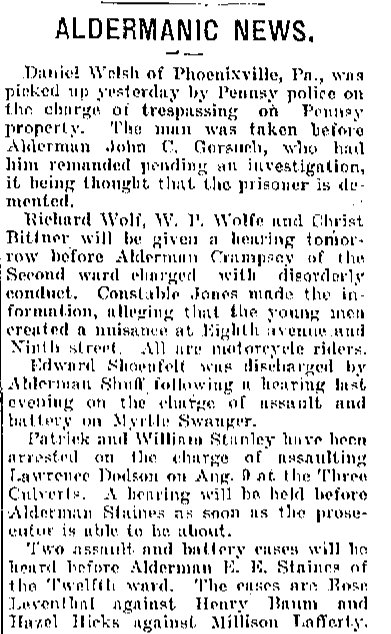 Keywords/Tags: Daniel Walsh, John C. Gorsuch, Richard Wolf, W. P. Wolfe, Christ Bittner, Welford Eads Crampsey, Edward Shoenfelt, William C.Shuff, Myrtle Swanger, Patrick Stanley, William Stanley, Lawrence Dodson, E. E. Staines, Rose Leventhal, Henry Baum, Hazel Kicks, Millison Lafferty, Altoona, Blair County, Pennsylvania