Share your discoveries
Please help us spread the word about Record Hunter and the thousands of FREE historical and genealogical records we provide...Use the social media buttons on every page that interests you.
Search Historica
Visit Historica to search over 100 indexes to 1 Million+ birth, death, marriage, obituary, estate, naturalization and military service records. Searching is free, we offer digital copies of the indexed documents for $10 and items are usually delivered within 24 hours.
Transcribed from the Clearfield Evening Progress June 12, 1913
CRUSHED UNDER MOTORCAR
-----
Donald Connor Dead and Miss Nora
Braun Badly Injured.
Fremont, Wis., June 12 -- Donald
Connor, twenty-four years old, son of
W. D. Connor, former lieutenant gov-
ernor and a graduate of the Universi-
ty of Wisconson, was killed and Miss
Nora Braun of Oshkosh was perhaps
fatally injured in an automobile acci-
dent near here.
The automobile, which was being
driven at high speed around a curve,
struck the cut in the road and turned
over twice, landing on its side. Con-
nor was cuaght under the heavy ma-
chine and crushed to death. The
young woman remained in the ma-
chine, but she sustained injuries
which, psysicians say, probably will
cause her death.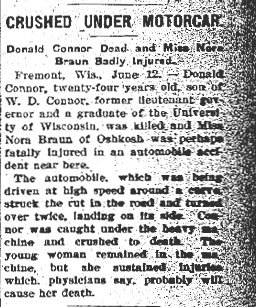 Keywords/Tags: Donald Connor, Nora Braun, W. D. Connor, Fremont Wisconson, Oshkosh Wisconson