Share your discoveries
Please help us spread the word about Record Hunter and the thousands of FREE historical and genealogical records we provide...Use the social media buttons on every page that interests you.
Search Historica
Visit Historica to search over 100 indexes to 1 Million+ birth, death, marriage, obituary, estate, naturalization and military service records. Searching is free, we offer digital copies of the indexed documents for $10 and items are usually delivered within 24 hours.
JORDAN RAGER LEGAL NOTICE.
From the Cambria Freeman April 15, 1869
CAUTION. -- My wife, SARAH JANE,
having left my bed and board without just
cause or provocation, I hereby caution all per
sons against harboring or trusting her in any
way on my account, as I am determined to pay
no debts which she may contract unless com
pelled to do so by law.
JORDAN S. RAGER.
Jackson Twp., April 1, 1869. -3t.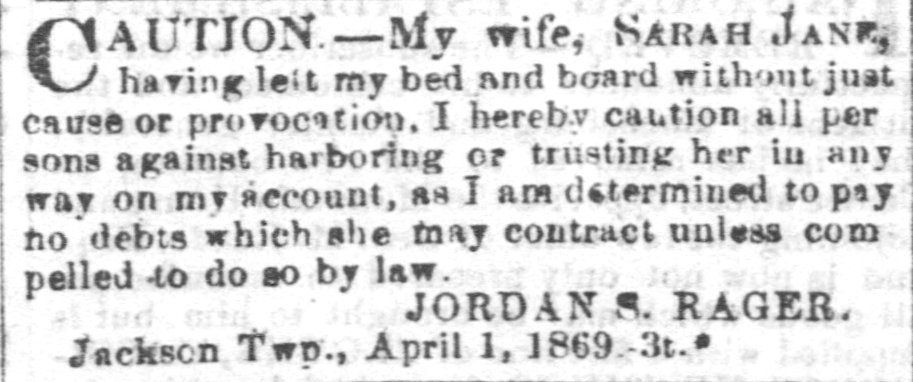 Keywords/Tags: Sarah Jane Rager, Jordan S Rager, Cambria Freeman, Cambira County, Pennsylvania