Share your discoveries
Please help us spread the word about Record Hunter and the thousands of FREE historical and genealogical records we provide...Use the social media buttons on every page that interests you.
Search Historica
Visit Historica to search over 100 indexes to 1 Million+ birth, death, marriage, obituary, estate, naturalization and military service records. Searching is free, we offer digital copies of the indexed documents for $10 and items are usually delivered within 24 hours.
Transcribed from the Altoona Mirror August 13, 1918
PASSES BAR EXAMINATION
                Kenneth Vaughn, son of Attorney Frank Vaughn, has received notice that he has passed the final law examination prescribed by the supreme court and he will be admitted to practice before the Blair county court next month. He took a two years' course of study at Dickinson law school and completed his studies in his father's office.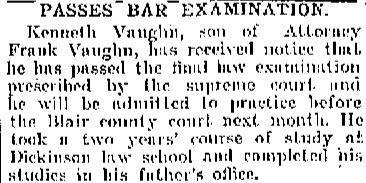 Keywords/Tags: Kenneth Vaughn, Frank Vaughn, Altoona, Blair County, Pennsylvania"; include ("/includes/sidebar2.php"); include ("/includes/footer2.php");?>