Share your discoveries
Please help us spread the word about Record Hunter and the thousands of FREE historical and genealogical records we provide...Use the social media buttons on every page that interests you.
Search Historica
Visit Historica to search over 100 indexes to 1 Million+ birth, death, marriage, obituary, estate, naturalization and military service records. Searching is free, we offer digital copies of the indexed documents for $10 and items are usually delivered within 24 hours.
Transcribed from the Altoona Mirror May 28, 1918
FALL PROVES FATAL.
LeRoy Waite of Tyrone Dies at Hospital of Fractured Skull.
                LeRoy Ellsworth Waite, aged 8, a son of Mr. and Mrs. Elmer Waite of 114 West Fourteenth street, Tyrone, died at the Altoona hospital at 8 o'clock last night as the result of a fracture of the skull he sustained in a bicycle accident.
                The lad was riding his wheel near his home about 4 Sunday afternoon, when turning out to avoid an automobile, he lost control and crashed into a wall being thrown head first against the stones. He was treated by the family physician and that evening brought to the Altoona hospital, where he was unconscious until the time of his death.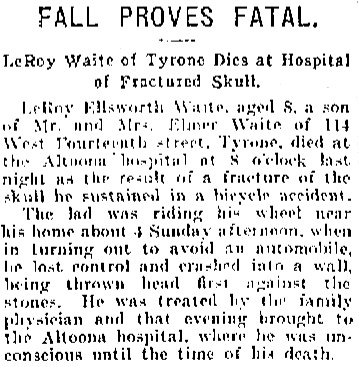 Keywords/Tags: LeRoy Waite, Elmer Waite, Altoona hospital, Tyrone, Blair County, Pennsylvania