Share your discoveries
Please help us spread the word about Record Hunter and the thousands of FREE historical and genealogical records we provide...Use the social media buttons on every page that interests you.
Search Historica
Visit Historica to search over 100 indexes to 1 Million+ birth, death, marriage, obituary, estate, naturalization and military service records. Searching is free, we offer digital copies of the indexed documents for $10 and items are usually delivered within 24 hours.
ALTOONA COLORED LAD DIES IN CAMP
Transcribed from the Altoona Mirror November 26, 1917
ALTOONA COLORED LAD DIES IN CAMP
                Jordan Hicks of 1301 Fourteenth street last evening received a letter from friends at Camp Lee, Va., announcing the death there last week of Louis Herring, recently a resident of this city, who left here Oct. 27 with the contingent of colored men taken to the southern training camp in the last draft call.
                Herring was about 21 years of age and according to the letter from his comrades in company A, Five Hundred and Fifth regiment, engineer service battalion, he was unable to become accustomed to camp conditions, rapidly failing in health until his death.
Young Herring was formerly employed at the barber shop of James Hooper of Chestnut avenue and Tenth street. His remains were claimed by his father and taken to his home near Philadelphia where interment was made.
               Three other colored boys from this city left on the same date with Herring. They were Harry J. Taylor, Wilbert A.  Cuff and Austin Bell. All state that they are getting along well and anxiously looking for remembrances from the folks back home. The boys are to be remembered at Thanksgiving time, and any packages donated will be carefully addressed and forwarded by Mr. Hicks.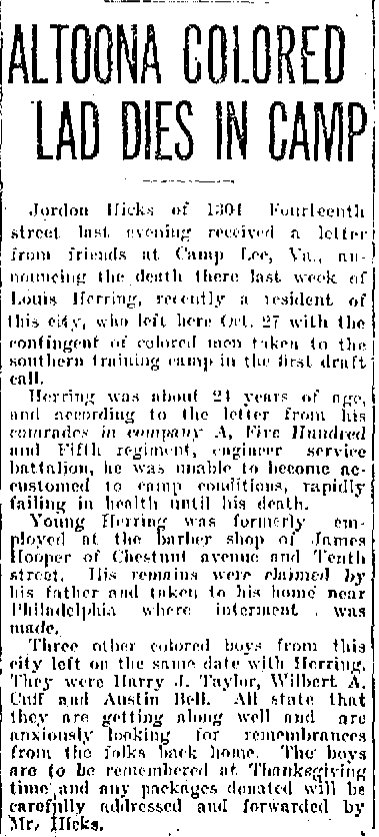 Keywords/Tags: Jordan Hicks, Louis Herring, James Hooper, Harry J. Taylor, Wilbert A. Cuff, Austin Bell, Camp Lee, Company A, Five Hundred and Fifth regiment, engineer service battalion, Altoona, Blair County, Philadelphia, Pennsylvania