Share your discoveries
Please help us spread the word about Record Hunter and the thousands of FREE historical and genealogical records we provide...Use the social media buttons on every page that interests you.
Search Historica
Visit Historica to search over 100 indexes to 1 Million+ birth, death, marriage, obituary, estate, naturalization and military service records. Searching is free, we offer digital copies of the indexed documents for $10 and items are usually delivered within 24 hours.
MCCALLISTER DIVORCE NOTICE.
From the Cambria Freeman April 15, 1869
NOTICE IN DIVORCE! -- Annie
McCallister, by her next friend, David Z.
Black, vs. Nason McCallister -- In the Court
of Common Pleas of Cambria County, No. 10,
Dec. Term, 1868. LIBEL IN DIVORCE.
The undersigned, having been appointed
Commissioner by the Court to take testimony
in the above stated case, hereby gives notice to
all parties interested that he will attend to the
duties of said appointment at the office of Shoe-
maker and Oatman, in Ebensburg, on THURSDAY,
MAY 13TH, 1869, AT 2 O'CLOCK, P. M., when and
where they may attend if they think proper.
GEO. W. OATMAN,
April 15, 1869 4t. Commissioner.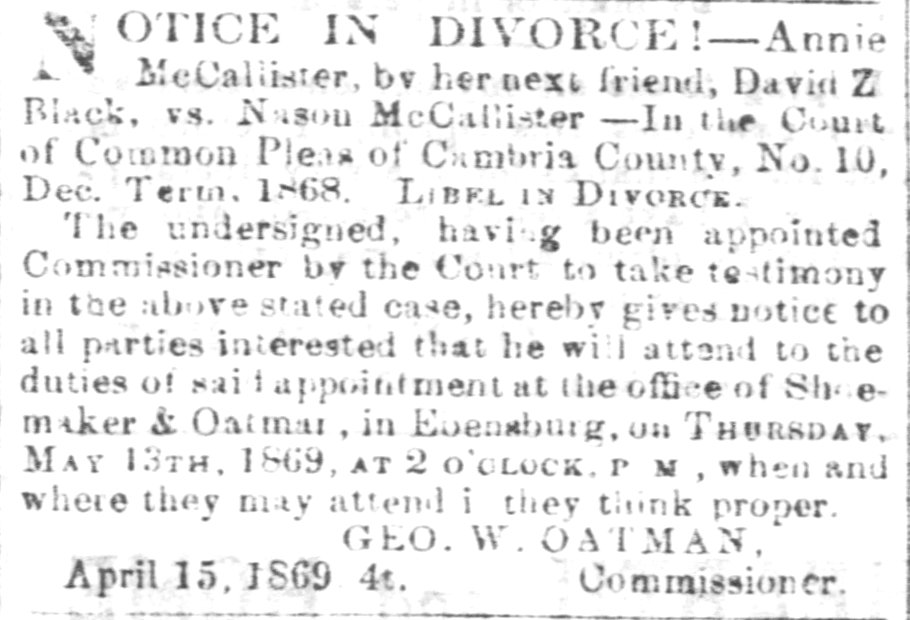 Keywords/Tags: Annie McCallister, Nason McCallister, David Z Black, George Oatman, Cambria Freeman, Cambira County, Pennsylvania