Share your discoveries
Please help us spread the word about Record Hunter and the thousands of FREE historical and genealogical records we provide...Use the social media buttons on every page that interests you.
Search Historica
Visit Historica to search over 100 indexes to 1 Million+ birth, death, marriage, obituary, estate, naturalization and military service records. Searching is free, we offer digital copies of the indexed documents for $10 and items are usually delivered within 24 hours.
BOY STRANGELY DISAPPEARS
Transcribed from the Altoona Mirror August 14, 1918
BOY STRANGELY DISAPPEARS
Merrill Leamer of 206 ½ Walnut avenue, the 12 year old son of D. W. Leamer strangely disappeared from his home yesterday and his family has been unable to locate him. He ate dinner yesterday noon and started out from the house. He has not been seen since.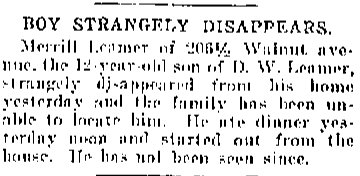 Keywords/Tags: Merrill Leamer, D. W. Leamer, Altoona, Blair County, Pennsylvania