Share your discoveries
Please help us spread the word about Record Hunter and the thousands of FREE historical and genealogical records we provide...Use the social media buttons on every page that interests you.
Search Historica
Visit Historica to search over 100 indexes to 1 Million+ birth, death, marriage, obituary, estate, naturalization and military service records. Searching is free, we offer digital copies of the indexed documents for $10 and items are usually delivered within 24 hours.
ELEVEN PENNSY PLAYERS HELPING U. S. TO WIN WAR
Transcribed from the Altoona Mirror August 14, 1918
ELEVEN PENNSY PLAYERS HELPING U. S. TO WIN WAR
                A full team of baseball players, from a pitcher on down, has been enlisted into the army and the navy of Uncle Sam from the Pennsylvania Railroad Baseball league of Altoona during the present season. The "honor roll" of the Pennsy league for the 1918 season, to date, follows:
Enlisted.
Clyde R. Bowser, first base, Car Shop.
Joseph C. Wilson, first base, Middle Division.
Charles Ashburn, center field, Car shop.
Merle Gerdes, third base, Machine Shop.
Delroy Donnelly, outfield, Machine Shop.
Al Harbor, outfield, Machine Shop.
Andy Mumper, third base, Middle Division.
Ike McCord, shortstop, Middle Divison.
Al Ashburn, shortstop, Car Shop.
Henry Leasure, pitcher, Car Shop.

Shipbuilding
J. K. Snyder, outfield, Middle Division.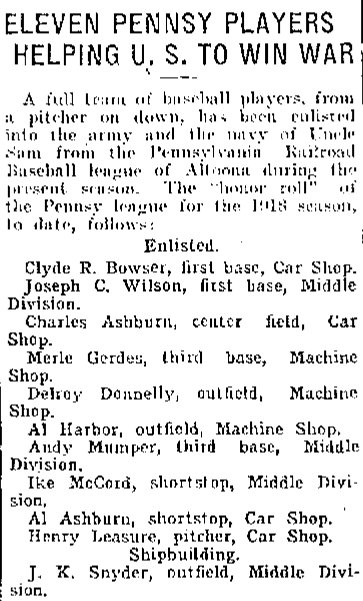 Keywords/Tags: Clyde R. Bowser, Joseph C. Wilson, Charles Ashburn, Merle Gerdes, Delroy Donnelly, Al Harbor, Andy Mumper, Ike McCord, Al Ashburn, Henry Leasure, J. K. Snyder, WWI, Altoona, Blair County, Pennsylvania