Share your discoveries
Please help us spread the word about Record Hunter and the thousands of FREE historical and genealogical records we provide...Use the social media buttons on every page that interests you.
Search Historica
Visit Historica to search over 100 indexes to 1 Million+ birth, death, marriage, obituary, estate, naturalization and military service records. Searching is free, we offer digital copies of the indexed documents for $10 and items are usually delivered within 24 hours.
Transcribed from the Rochester Morning Herald January 13, 1882
Real Estate Transfers.
The following transfers of real estate were
recorded in the county clerk's office yester
day:
William Kidd and James B. Perkins, as executors,
etc., to Frank Scherer, property in Gates, 40x163 feet--
$298.56
William Kidd and James B. Perkins, as executors,
John H. Martindale to John H. Lane, property on Maple
street, 40x132 feet -- $1,500.
Emma C. Pearce and husband to Thomas W. Beattle,
property in Greece, twenty acres, -- $1,309
Thomas E. White as referee, to Leonard H. Bacon,
property on North St. Paul street -- $3,010.
Garit Ubbink and wife to John W. Cook, property on
Park avenue -- $850.
Louis Ziegler and wife to Charles Stecher and wife,
property on Almira street, 33x100 feet and 28x100 feet --
$3,000.
Isaac J. Le Bean and wife to Peter Sheldon and
Shelly G. Crump, property in Pittsford -- $455.32.
Julia A. Galusha to T. Joseph Keeler, property on
Elizabeth street -- $1,800.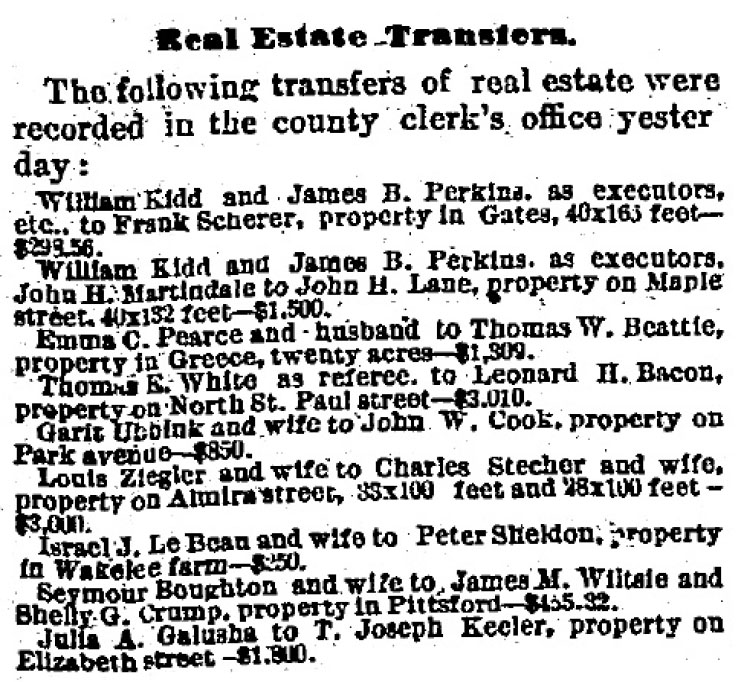 Keywords/Tags: William Kidd, James B Perkins, Frank Scherer, John H Martindale, John H Lane, Emma C Pearce, Thomas W Beattle, Thomas E White, Leonard H Bacon, Garit Ubbink, John W Cook, Louis Ziegler, Charles Stecher, Isaac J Le Bean, Peter Sheldon, Shelly G Crump, Julia A Galusha, T Joseph Keeler