Share your discoveries
Please help us spread the word about Record Hunter and the thousands of FREE historical and genealogical records we provide...Use the social media buttons on every page that interests you.
Search Historica
Visit Historica to search over 100 indexes to 1 Million+ birth, death, marriage, obituary, estate, naturalization and military service records. Searching is free, we offer digital copies of the indexed documents for $10 and items are usually delivered within 24 hours.
105th Pennsylvania Wild Cat Regiment Reunion
Transcribed from the Altoona Mirror September 17, 1918
County Commissioner Robert F. Bankert leaves here this evening for Reynoldsville, Jefferson county, to attend the annual reunion of the One Hundred and Fifth Pennsylvania regiment, better known as the Wild Cat regiment. Mr. Bankert is one of the surviving fourteen members out of a company of 101 men. The reunion is to ibe held Thursday.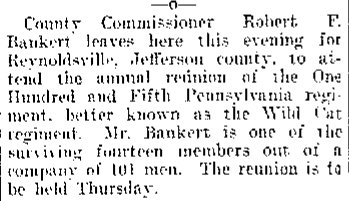 Keywords/Tags: Robert F. Bankert, 105th Pennsylvania, Altoona, Blair County, Pennsylvania