Share your discoveries
Please help us spread the word about Record Hunter and the thousands of FREE historical and genealogical records we provide...Use the social media buttons on every page that interests you.
Search Historica
Visit Historica to search over 100 indexes to 1 Million+ birth, death, marriage, obituary, estate, naturalization and military service records. Searching is free, we offer digital copies of the indexed documents for $10 and items are usually delivered within 24 hours.
SWOOPE HEADS P. O. S. OF A. COMMITTEE
Transcribed from the Clearfield Progress April 11, 1918
SWOOPE HEADS P. O. S. OF A. COMMITTEE
        Hon. Wm. I. Swoope has been noti­fied of his appointment as chairman of the P. O. S. of A. committee of the Public Safety committee of Pennsylvania.
        The Patriotic Sons of America of which Mr. Swoope is prominent member is one of the foremost patriotic organizations in this nation and their assistance in the Liberty Loan campaign and all other governmental activities has been very much felt and appreciated.
        Mr. Swoope will have as his assistants P. S. Richner, of Clearfield, Mr. William Clyde of DuBois, Blaine Nor­ris of Olanta and Charles Keatley of Brisbin.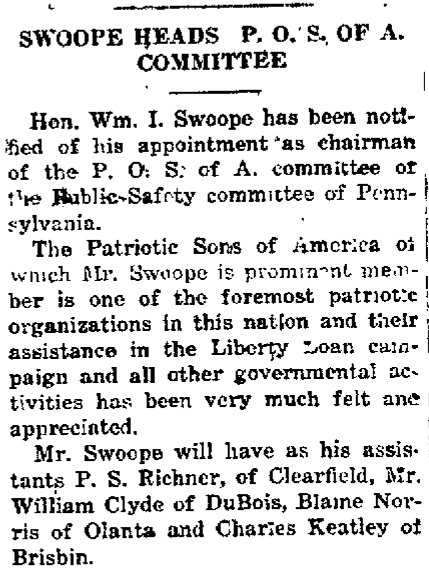 Keywords/Tags: William I. Swoope, P. S. Richner, William Clyde, Blaine Nor­ris, Charles Keatley, Patriotic Sons of America, WWI, Liberty Loan Campaign, Clearfield, Pennsylvania"; include ("/includes/sidebar2.php"); include ("/includes/footer2.php");?>