Share your discoveries
Please help us spread the word about Record Hunter and the thousands of FREE historical and genealogical records we provide...Use the social media buttons on every page that interests you.
Search Historica
Visit Historica to search over 100 indexes to 1 Million+ birth, death, marriage, obituary, estate, naturalization and military service records. Searching is free, we offer digital copies of the indexed documents for $10 and items are usually delivered within 24 hours.
IRATE FATHER INTERFERES
WITH YOUNG LOVERS' PLAN
Transcribed from the Clearfield Evening Progress June 17, 1913
IRATE FATHER INTERFERES
WITH YOUNG LOVERS' PLAN
-----
Cair Williams and Miss Bailey
of Curwensville, sought to enter the
matrimonial state without the con-
sent of the young lady's father, and
eloped to DuBois last week. They
hied themselves to the coal town
but Papa Bailey followed in an auto-
mobile, and the wold be bridegrrom
was arrested and given a hearing be-
fore a Curwensville justice of the
peace.
The hearing was continued and in
the meantime the gay Lothario and
his inamorita have been enjoined
from joinging hearts and hands in the
pleasures and troubles of married
life.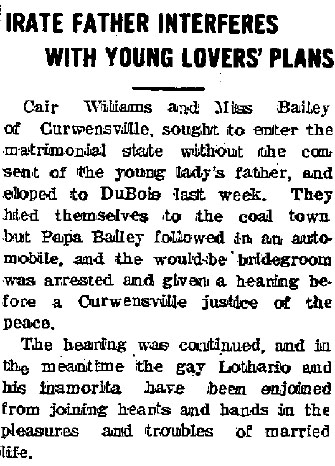 Keywords/Tags: Cair Williams, Bailey, DuBois PA, Curwensville PA