Share your discoveries
Please help us spread the word about Record Hunter and the thousands of FREE historical and genealogical records we provide...Use the social media buttons on every page that interests you.
Search Historica
Visit Historica to search over 100 indexes to 1 Million+ birth, death, marriage, obituary, estate, naturalization and military service records. Searching is free, we offer digital copies of the indexed documents for $10 and items are usually delivered within 24 hours.
List of Soldiers Killed or Wounded In War Zone
From the Altoona Mirror August 14, 1918
LIST OF SOLDIERS KILLED
OR WOUNDED IN WAR ZONE
Killed In Action.
CORPORAL HARRY U. BRANDT, aged 22, of 1609
Twelfth street. July 30, company G.
HARRY DEWEY CHILCOAT, aged 19, of 703 Twenty-first
street, Jult 29, company G.
MECHANIC DAVID FRED CARSON, aged 19, of 430
Second avenue, July 30, company G.
RILEY A. WALKER, aged 20, of 309 Howard avenue, August
7, Company G.
WARREN STIVER of sinking Valley, July 30, Third Regi-
ment.
GEORGE BRIGGS od Sinking Valley, July 28, 110th Regiment.
CHAS. C. NORMAN of Bald Eagle, July 28, 110th Regiment.
JOHN H. GARDNER of Tyrone, July 28, 110th Regiment.
Severley Wounded In Action.

SERGEANT HARRY A. SMITH, aged 23, of Newburg, July
28, company G.
CORPORAL JOHN P. WOLF of 809 Eighth street, July 30,
Company G.
CORPORAL ARTHUR A. GLUNT, Eldorado, July 28 Com-
pany G.
CORPORAL H. F. BRUBAKER, Duncansville, July 28, 110th
Regiment.
MORRIS J. MATTHEEWS, aged 27, of 303 East Bell avenue,
July 28, Company G.
CHARLES E. BURNSIDE of Sinking Valley, July 29,
110th Regiment.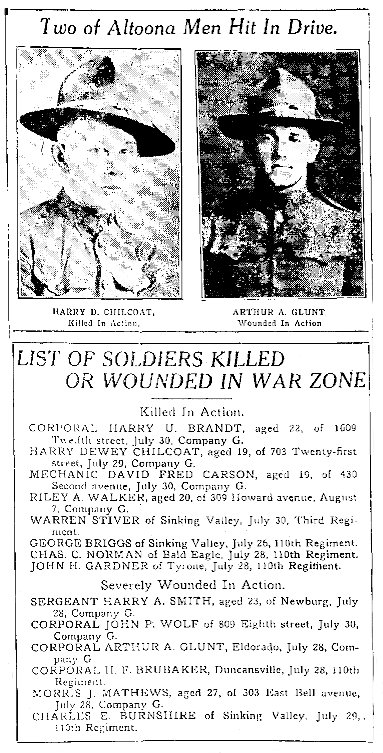 Keywords/Tags: Corporal Harry U. Brandt, Barry Dewey Chilcoat, David Fred Carson, Riley A. Walker, Warren Stiver, George Briggs, Charles C. Norman, John H. Gardner, Seargant Harry A. Smith, Corporal John P. Wolf, Corporal Arthur A. Glunt, Corporal H. F. Brubaker, Morris J. Matthews, Charles E. Burnshire, 110th Regiment, 3rd Regiment, Company G, Company C, WWI, Altoona, Blair County, Pennsylvania