Share your discoveries
Please help us spread the word about Record Hunter and the thousands of FREE historical and genealogical records we provide...Use the social media buttons on every page that interests you.
Search Historica
Visit Historica to search over 100 indexes to 1 Million+ birth, death, marriage, obituary, estate, naturalization and military service records. Searching is free, we offer digital copies of the indexed documents for $10 and items are usually delivered within 24 hours.
PENNSYLVANIA SOLDIER IS DEAD ON FRENCH SOIL
Transcribed from the Altoona Mirror November 26, 1917
PENNSYLVANIA SOLDIER
IS DEAD ON FRENCH SOIL
WASHINGTON, D. C., Nov 26-- The death of three American soldiers in France from various causes were announced today officially.
Private Joseph L. Boyce, infantry, died Nov. 11 from heart disease: emergency address, Lawrence Boyce, 50 Plank street, Pittston, Pa.
Bugler Marion F. Stoddard, infantry, died Nov. 16, accidental bullet wound: mother, Mrs. Georgia M. Stoddard, Silver Springs, N. Y.
Corporal Horace Foulds, headquarters company infantry, died Nov. 25, nephritis, emergency address, Harry Foulds, 313 Clinton Place, Newark, N. J.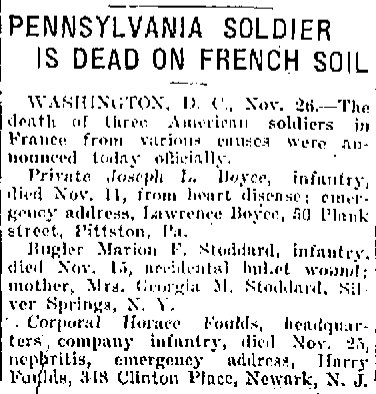 Keywords/Tags: Private Joseph L. Boyce, Lawrence Boyce, Pittston PA, Bugler Marion F. Stoddard, Georgia M. Stoddard, Silver Springs NY, Corporal Horace Foulds, Harry Foulds, Newark NJ, WWI, war casualties, November 1917