Share your discoveries
Please help us spread the word about Record Hunter and the thousands of FREE historical and genealogical records we provide...Use the social media buttons on every page that interests you.
Search Historica
Visit Historica to search over 100 indexes to 1 Million+ birth, death, marriage, obituary, estate, naturalization and military service records. Searching is free, we offer digital copies of the indexed documents for $10 and items are usually delivered within 24 hours.
MARRIAGE RECORD
Transcribed from the Altoona Mirror May 28, 1918
YOUNG-SELL
                Mr. John Young of 1434 Twelfth avenue, son of Mr. Wm. Young, and Miss Elda Sell of 1225 Fourteenth avenue, daughter of Mrs. Henrietta Sell, were quietly married at Camp Lee, Petersburg, Va., on May 16, at the Y.M.C.A. by the Rev. Thomas Carter Page, the ring ceremony being used. A wedding supper was served at the barracks by the boys at camp. The bridegroom left the next day for overseas. He was a Middle division fireman before the war. It was quite a surprise to the many friends of the young couple who join in wishing them all the happiness possible and a safe return home for the bridegroom. The new bride left with her brother, Crawford Sell, supposedly to visit Mr. Young before he left for France. The young couple have been engaged for eight months.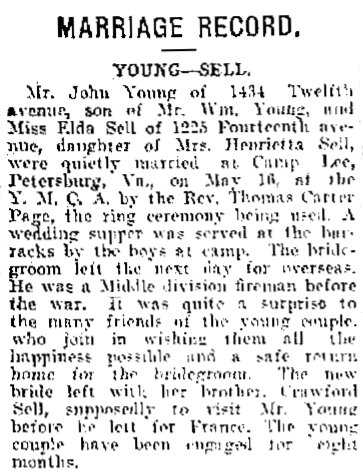 Keywords/Tags: John Young, William. Young, Elda Sell, Henrietta Sell, Crawford Sell, Rev. Thomas Carter Page, Camp Lee, Petersburg, Altoona, Blair County, Pennsylvania